Cryptocurrency has become a popular and progressive market; many are involved in trading, and it is done through various means, i.e. manually or via crypto trading bots. The Cornix trading bot will be reviewed in this post; the bot allows you to automate Telegram-based crypto signals. To complete trades, connect the bot to your trading platform using API credentials and click the follow button underneath signals.
What are Crypto Trading Signals?
Automatic and manual approaches are used to generate bitcoin trading signals. Trading software created by trained specialists and coders creates automatic cryptocurrency trading signals. They use numerous unique indicators to evaluate historical data on the price movement of currency pairings to identify patterns, which they subsequently transmit as trading advice.
Telegram crypto trading bots, on the other hand, go a step farther and execute the deal for you. So, let's have a look at the Cornix trading bot.
What is Cornix?
Cornix trading bot allows you to automate Telegram-based crypto signals. TradingView notifications are also sent based on your trading strategy. Use the Cornix trading bot's cutting-edge features to minimize risk, whether you trade manually or automatically.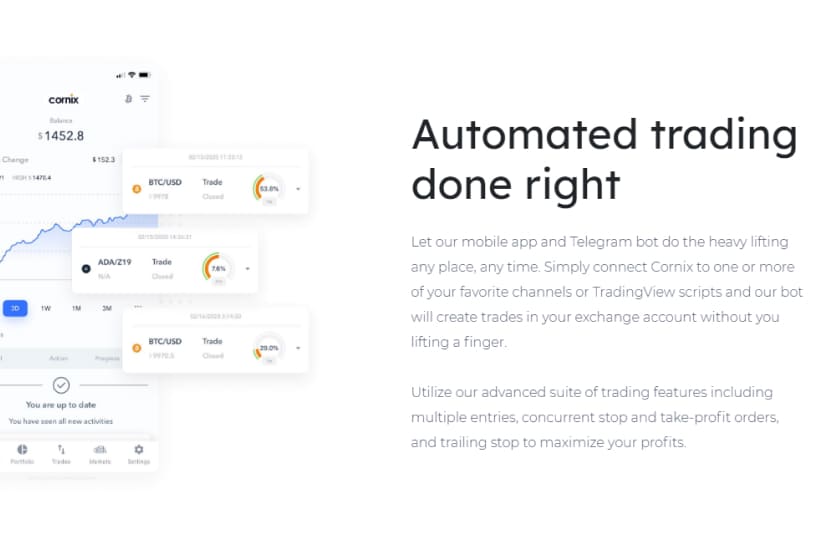 Cornix also offers a mobile app and a Telegram bot to help with this. Download and link Cornix to Telegram crypto signalling channels, and its bot will trade from your account. However, compared to other bot providers such as Pionex, Bitsgap, and others, it might be not accessible to set up Cornix at times.
How do Cornix works?
Cornix is a crypto trading Telegram bot; hence it only works on Telegram. Cornix's major goal is to make trading easier for novices. As a result, the bot connects to your trading exchange using API credentials. As a result, your assets stay in your wallets, and the bot only puts orders on your behalf.
In most circumstances, you can configure the bot using Telegram. Depending on the signal source, you may be able to utilize Cornix after entering the crypto signals telegram channels. Click the follow button located beneath the signal to follow a signal. Following that, the Cornix bot will handle everything for you.
Cornix Features Review
Following are the features that a Cornix bot comes with:
Trades
Through Cornix, you may examine, manage, check the history, and delve deep into risk ratios and returns.
Portfolio
Use Cornix to track the success of your portfolio, assess the distribution of your assets across multiple exchanges, and learn about the market worth of currencies.
Alerts
Get updates on your transactions and activity via Telegram and push notifications.
Configuration
The bot also allows you to personalized trade setups. You can acquire the finest setting for each crypto trading signal telegram channel.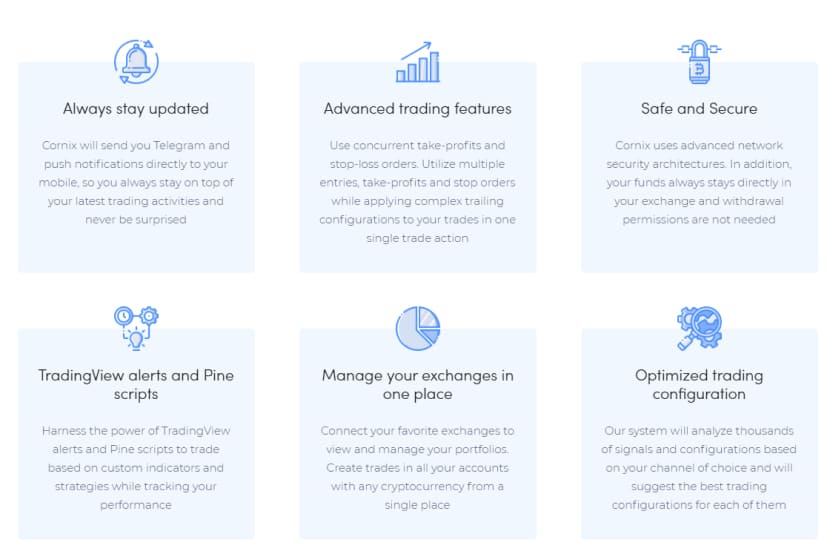 Cornix Trading Bot Review
The Cornix Telegram bot allows you to immediately track crypto signals broadcast in telegram conversations. The bot will place orders on your behalf and can make many trades with different take profits and stop-losses. To set up the Cornix trading bot, follow the steps below:
Visit Cornix's official website.
Take advantage of Cornix's 14-day free trial by clicking the Get Started button.
The Cornix bot will walk you through the process; press the start button.
The bot will request that you activate Telegram alerts.
You must now add a client to the Cornix bot. A client is a trading platform, such as Binance.
The bot will request your API credentials from the exchange you selected. Do precisely what the bot says; otherwise, you may have to restart the procedure.
You will now select a channel. The bot will provide a list of channels you are subscribed to and those that the bot supports. You may see a list of compatible channels in the Cornix Partners section.
After you've decided on a channel, allow auto trading for that channel.
Go to Bot Configuration > Trading > client name > General > Amount per Transaction and enter the amount you wish to invest per trade. However, the bot automatically opens by 5% as a default option.
Publish a signal on Cornix
You may publish trade signals to your Telegram channel and allow your subscribers to follow them with the Cornix trading bot. You may accomplish this in two ways:
Type Raw Text
The simplest method is to enter your raw text into the text field and upload it as is. However, you must adhere to a precise format, or the bot would not recognize it. Visit the Cornix Signals Posting section to learn more about the selected format.
Post a Signal
Post a signal is the second way; visit the bot's main menu and click the publish button under the signals tab. There are two possibilities here: guided and free text. When you select the guidance option, the signal wizard will assist you in creating a trading signal and posting it to the channel. To understand more, go to the Cornix Signals Posting area.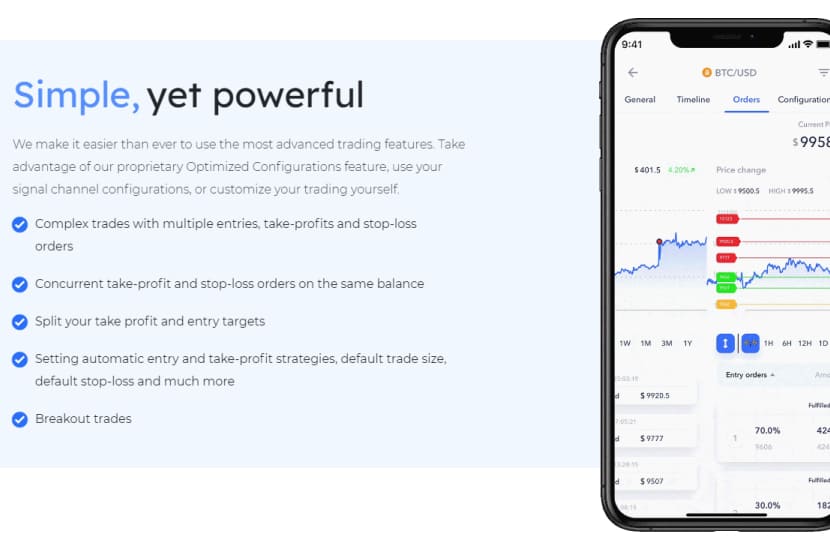 Crypto Exchanges Cornix Supports
It is critical to understand whether the Cornix bot supports the exchange you are using or your signals provider. Here is a list of all the Cornix exchanges:
Apart from these, many other exchanges are supported that can be viewed in the partner's section.
Look at this
Recommended knowledge from Signals Blue
Final Thoughts
Cornix trading bot is designed to handle the legwork for you. It is a preferable alternative, especially if you are new to cryptocurrency trading. Cornix trading bot automates cryptocurrency trading signals with a one-click follow option. You may start with the Cornix trading bot's 14-day free trial and learn how to maximize your trading strategy by utilizing all of its capabilities.
What is the finest Cornix substitute?
Cornix trading bot works well with Telegram channels for crypto signals. The CryptoHopper Telegram trading bot comes highly recommended when it comes to alternatives. To learn more, read Cryptohopper Crypto Signals Telegram Bots.
Is Cornix secure?
Cornix is a trustworthy Telegram crypto trading bot. All crypto trading signal providers, including VCT, Universal Crypto Signals, and others, employ the Cornix trading bot.