KuCoin is one of the five largest Crypto exchanges, which makes its use way easier and hassle-free to buy BTC, Dodge, KCS, ETH, etc. KuCoin looks ideal to an expert cryptocurrency trader at first glance. The exchange provides hundreds of tokens available on the market and the possibility to trade futures contracts and employ margin. KuCoin appears an attractive choice for users because of its low fees and other benefits.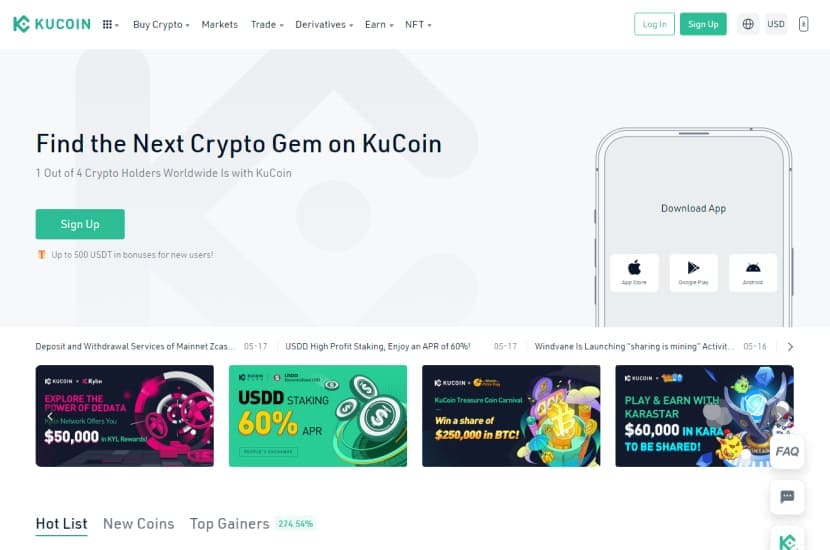 KuCoin Pros
Some KuCoin Pros are described below:
Earning interest on Crypto
KuCoin holders can earn interest on their crypto by staking, lending, and changing interest in their assets to others. This way, they can earn rewards, and by making more rewards, they can build their portfolio more nicely.
Having Low Fees
KuCoin offers comparatively low trading fees than other crypto exchanges.
Users should anticipate paying between 0.0125 percent and 0.10 percent per trade.
A significant number of cryptocurrencies
Unlike some exchanges, which only have a few dozen cryptocurrencies to trade, KuCoin has over 600 cryptocurrencies to offer.
Trading Options
Future products and the ability to trade on margin are advanced trading alternatives provided by KuCoin.
Free USDT Coins
Users can get free USDT by simply creating an account, doing a few paid surveys, fulfilling offers, and swiftly redeeming their points for USDT.
KuCoin Cons
Following are some KuCoin Cons:
Not licensed in the United States (US)
KuCoin is not permitted in the US, so users should look for another exchange.
Poor user feedback
While negative ratings of crypto exchanges are widespread, KuCoin's customer reviews are particularly low. Customers have reported concerns with withdrawals, customer support, and market manipulation.
Offer and Markets
Users of KuCoin can access their accounts via an internet portal or mobile apps for Android and iOS. Its desktop and mobile apps each include a wealth of features and tools.
KuCoin users can view markets, acquire crypto, trade, lend crypto, and more once logged in on desktop or mobile. The platform allows four order types: market, limit, stop-limit, stop-market, margin, futures, and peer-to-peer trading, which may benefit some users. KuCoin also allows staking and has recently included a Trading Bot tool to help with the trading process; it essentially functions as a robo-advisor for your cryptocurrency portfolio.
Users can also get up to $500 in USDT (Tether) after making an initial deposit or transfer of at least 50 USDT. It also offers margin trading and leveraged coin options, which allows you to quadruple your profits by borrowing.
Although this exchange has many features, its desktop and mobile interfaces aren't very user-friendly. However, the site has a good help section where users can get answers to frequent concerns.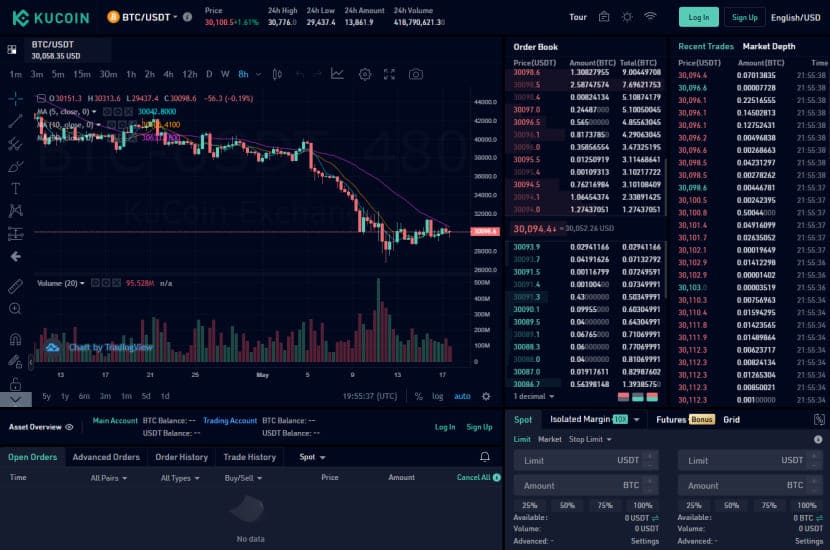 Fees
Depending on your tier level, trading costs on KuCoin range from 0.0125 percent to 0.1 percent. In comparison to competitors, which may charge up to 0.50 percent for every trade, its costs are relatively inexpensive. Users can also save money on trading fees using their KuCoin Token (KCS) balance.
KuCoin charges withdrawal fees in addition to trading fees, which vary by asset and are subject to change based on market performance. Deposits are free on this exchange, although it's worth noting that KuCoin currently only has a few fiat deposit alternatives.
Available Cryptocurrencies on KuCoin
Users can buy, sell, and trade over 600 cryptocurrencies on KuCoin. Those looking for a diverse range of assets may benefit from this exchange. A sample list of cryptocurrencies now available on KuCoin is as follows:
Bitcoin (BTC)
Dogecoin (DOGE)
Ethereum (ETH)
Polkadot (DOT)
XRP
Shiba Inu (SHIB)
Signals Blue Opinion about KuCoin
While KuCoin is one of the world's top cryptocurrency exchanges, continuous investigations and a long list of nations that have banned or restricted its services are grounds for concern. That is why it is not permitted in the United States. Because of its terrible evaluations, its platform may potentially have a negative impact.
KuCoin, on the other hand, may contain the functionality you're seeking if you're a seasoned worldwide trader interested in trying out new tokens and trade alternatives. KuCoin offers a huge range of cryptocurrencies, including ETH, BTC, KCS, DOGE, DOT, and others, to active traders in all regions except the United States. KuCoin also has a cheaper fee structure. Before you start using KuCoin, make sure you do your research and compare platforms.
Signals Blue and KuCoin – is the exchange compatible with our signals?
Signals Blue is one of the most well-paid cryptocurrency signal providers available. And compatible with automated trading on Binance, Coinbase, and KuCoin. About 60% of Blue signals are compatible with KuCoin, a fantastic and largest crypto exchange. If a client has a personal account on KuCoin, then the client can use more than half of Blue signal's signals.
Secure Exchange
KuCoin is a secure exchange since it employs cutting-edge encryption technology to protect its website from hackers. Sign-ins and withdrawals can also use two-factor authentication procedures.
Conclusion
Though KuCoin is a young cryptocurrency exchange, it is swiftly moving to the top since its services far exceed many users' expectations. The exchange is simple to use and offers a diverse selection of bitcoin assets. The trading platform has all the functionality that a seasoned trader would expect while being simple enough for beginning traders to understand. The mobile trading application is also a fantastic addition, and overall, customer satisfaction has been excellent.
Look at this
Recommended knowledge from Signals Blue
Is it worth using KuCoin?
Yes, it is worth using KuCoin because it offers more than 600 currencies and relatively lower fees than other exchanges, and users can earn interest by staking and lending on KuCoin. And by having an account on KuCoin, users can also have access to more than half of Blue signals.
In which countries can KuCoin be used?
KuCoin is used globally by users. It is used in Hong Kong because KuCoin is a Seychelles-based exchange initially launched in Hong Kong. Other countries using KuCoin Are Canada, Australia, France, Greece, U K, Turkey, Japan, etc.
In which countries is KuCoin blocked?
In the US, because KuCoin is not licensed to operate in the United States, you'll have to go through a process to spend US dollars, and you won't have the same level of protection for cash deposits as you would with other prominent exchanges like Coinbase.