Huobi Global is a well-known cryptocurrency exchange with a significant presence in Asia. Huobi is a digital asset ecosystem that includes spot trading, derivatives trading, staking, crypto loans, crypto yield products, etc. It was founded in 2013. Huobi has lower fees for trading Cryptocurrency but higher for purchasing cryptocurrency; it is not legal in the USA.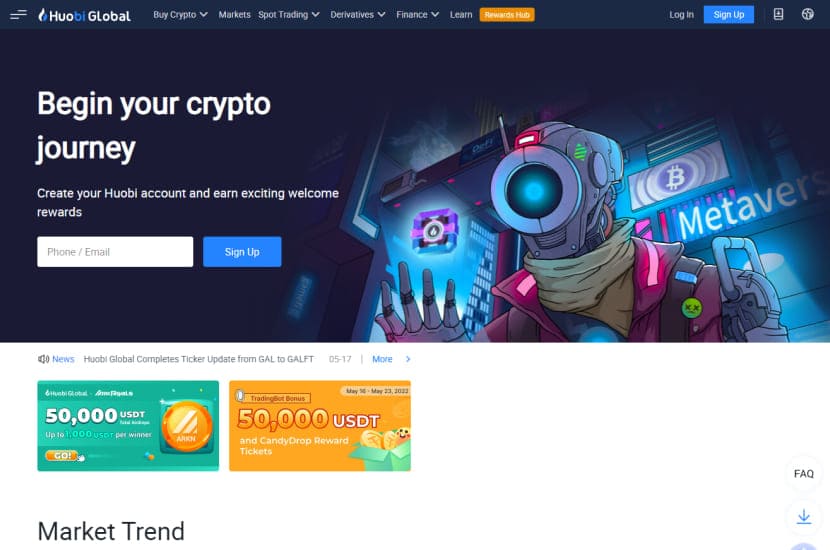 Huobi Pro Pros
Some of the Huobi Pros are described below:
Liquidity
Huobi Global is one of the world's most liquid cryptocurrency exchanges, with substantial liquidity in the popular BTC and ETH trading pairs.
A huge number of Cryptocurrencies
Huobi users can trade more than 400 different cryptocurrencies on the market.
Yield-generating opportunities
Users can deposit funds and receive double-digit to triple-digit rates on various cryptocurrencies.
Low Fees
Huobi users can benefit from Huobi's low trading fees feature.
Huobi Pro Cons
Some of the Huboi Cons are described below:
Not-beginner friendly
The sheer quantity of items and services available on the Huobi platform may confuse first-time shoppers.
Highly Unregulated
Huobi has been operating out of an unauthorized firm in Seychelles, which has resulted in a long list of nations where the exchange is not permitted to operate.
Wash Trading accusation
Huobi Pro has been accused of Wash Trading, which implies that it's claimed trade volumes have been intentionally exaggerated.
Offer and Markets
Huobi Global is a web-based platform and an Android and iOS mobile app.
The exchange features different VIP account tiers dependent on how many Huobi Experience (EXP) points a user possesses. Users earn EXP based on their trading volume and cryptocurrency holdings on the platform. A user can upgrade to Premier, Advanced, Insider, Ambassador, or Partner based on the number of EXP earned in the previous 30 days. Gifts, a personal account manager, and enhanced limitations are all available to VIP account members.
Huobi offers about 400 currencies, but due to regulatory concerns from mainland China, where many of the exchange's users are still from, Huobi Pro and HADAX do not allow Fiat currencies. Tether employs fiat proxies to give the price stability that fiat currencies can provide.
According to Huobi Global's release, the platform gives a "$170 Sign-up Bonus" to new users. Users that sign up for Huobi Global will be able to take part in the campaign and receive the "Welcome Bonus."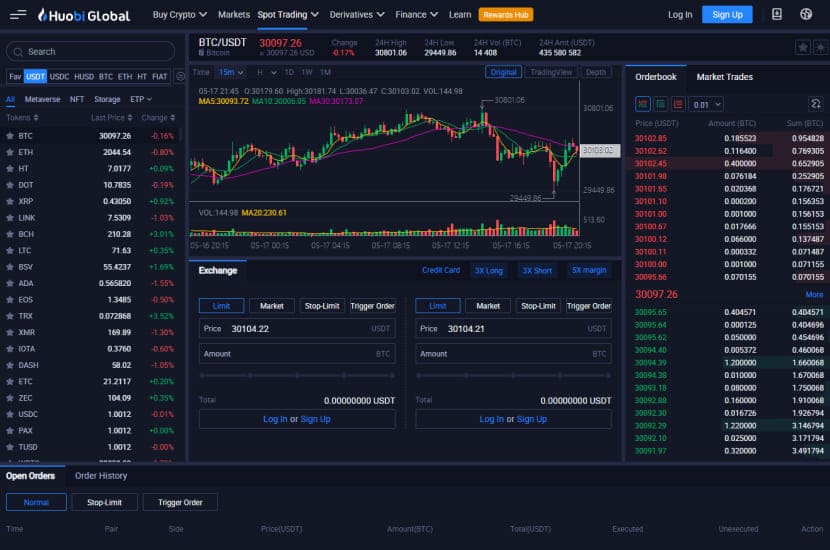 Fees
Huobi Global boasts cheap costs for trading cryptocurrency but higher fees for purchasing cryptocurrency with a credit or debit card. Deposits in fiat currency (such as US dollars) are free, but users must pay trading fees.
Huobi Global charges fees on a maker-taker basis, with reductions available for high-volume traders holding HT tokens. It does not matter if you are a taker or a maker in the transaction. You will pay varying costs.
Trading fees are divided into two categories: regular accounts and professional accounts. Professional accounts need a lot of trading activity (above 1,000 BTC every 30 days) and many HT holdings (at least 2,000 total).
Huobi Global Offers Cryptocurrencies
Huobi Global offers over 400 cryptocurrencies and regularly adds new assets to the marketplace. Here are given some of the most popular digital currencies and tokens available on the platform right now:
Bitcoin (BTC)
Dogecoin (DOGE)
Ethereum (ETH)
Litecoin (LTC)
Monero (XMR)
Huobi Token(HT)
Huobi USD (HUSD)
Tether (USDT)
Tron (TRX)
Zcash Uniswap (UNI) (ZEC)
Signals Blue Opinion about Huobi
Huobi provides an all-encompassing ecosystem for experienced crypto traders and investors, allowing them to buy, sell, stake, and borrow a wide range of cryptocurrencies. However, the exchange has yet to achieve regulatory compliance in large areas, and newcomers may struggle to use the platform's numerous tools and capabilities. In Singapore, Huobi Global is not available.
Signals Blue and Huobi – is the exchange compatible with our signals?
Signals Blue is one of the most well-paid cryptocurrency signal providers available. And compatible with automated trading on Binance, Coinbase, and Huobi. About 80% of Blue signals are compatible with Huobi, a fantastic and largest crypto exchange. If a client has a personal account on Huobi, then the client can use almost all of Blue signal's signals.
Security
Huobi keeps client assets in multi-signature cold wallets and maintains a 20,000 BTC Security Reserve Fund to deal with serious security incidents and protect its users.
Huobi, on the other hand, has faced regulatory hurdles. Huobi Global is incorporated in the Seychelles as an unregulated entity, which implies it may not be working under a license in your jurisdiction.
Conclusion
Huobi Pro is unmistakably ambitious, as seen by its present aggressive international expansion strategy. As a trading platform, the exchange has few competitors in the cryptocurrency market, and the range of digital coins and tokens accepted is a significant strength.
The registration process is currently more complex than ideal for traders who are not from China, Hong Kong, or Singapore. Still, when local versions of the exchange open up in the United States and other Western countries, this should improve. There aren't many critiques that can be leveled at Huobi Pro, and we can expect it to become one of the world's most famous cryptocurrency exchanges in the next few years.
Look at this
Recommended knowledge from Signals Blue
Is it worth using Huobi?
Yes, Huobi is worth using because it offers more than 400 currencies and relatively lower trading fees than other exchanges, and users can earn interest by staking and lending on Huobi. And by having an account on Huobi, users can also have access to almost all Blue signals.
In which countries can Huobi be used?
Huobi is used globally by users. It is used in Beijing because the Huobi exchange was initially launched in Beijing. Other countries using Huobi are Canada, Australia, Denmark, Greece, UK, Sri Lanka, Chile, etc.
In which countries is Huobi blocked?
Huobi Global has always been dedicated to providing digital asset trading services while abiding by all relevant regulations. We will have to add Singapore as a banned jurisdiction to comply with Singaporean laws. Huobi Global would no longer be able to provide services to Singapore residents.