Cryptocurrencies and their trading is getting more popular day by day. New or seasoned investors are entering the community, and they want to have a platform they can put their trust on. Many good crypto exchanges are available in the market. Gemini is one of them. A well-known centralized exchange that follows U.S. regulations.
Using Gemini allows the users to explore advanced trading features. Gemini provides a primary interface for inexperienced crypto investors, while more experienced traders may appreciate its ActiveTrader platforms. Some exchanges charge lower fees for cryptocurrency traders, but Gemini's safety precautions and insurance against online breaches may put those new to the crypto exchange world at ease. Gemini offers direct trading between sellers and buyers through the Gemini Clearing portal; fees are the spread cost, and there is no minimum order size.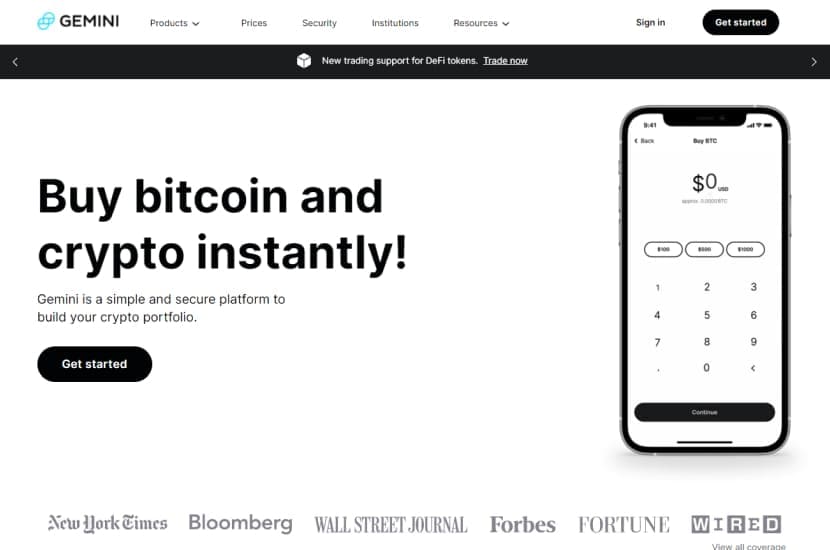 Gemini Pros
Accessibility
One of the most important and highlighted parts of being a Gemini user is that it is available in many countries. Many cryptocurrency exchanges are only accessible in a few areas. However, Gemini is available in all 50 states.
Security
Gemini takes great pride in its security precautions and has never had a successful hacking attempt on its website. The site's virtual assets are protected against security breaches and hackers, and the majority of its assets are maintained in "cold storage," away from internet dangers that may compromise security.
Offers Digital Wallet
A Digital wallet is required for crypto trading, where all funds are stored. For those people who do not already have a cryptocurrency wallet, the exchange provides Gemini Wallet. Digital assets are protected against losses caused by a cyber-attack or hack, a fake transfer, or asset misappropriation.
Mobile APP
Websites are good, but people prefer mobile applications most of the time, so Gemini has a free funded application available for iOS and Android. Both versions have great app store ratings and replicate many of the same operations and features as the desktop site.
Withdrawal Fee
Gemini has an advantage over its competitors in terms of withdrawal costs. With most brokerages, withdrawing cryptocurrency from the platform incurs at least a network charge (the cost of processing a transaction on the underlying blockchain). However, Gemini allows you to make up to ten withdrawals per cryptocurrency per month for free. However, it is vital to know that the costs are considerable after the first ten withdrawals.
Gemini Cons
Less Trade
Gemini provides modest minimum trading quantities that vary depending on the cryptocurrency you wish to trade. The minimum bitcoin trade, for example, is 0.00001 BTC, while the minimum ether trade is 0.001 ETH.
High Cost
Gemini's costs are slightly higher than those of some other crypto brokerages and vary based on your platform, with the highest price being 1.49 percent. When you use a debit card to make a transaction, the cost is 3.49 percent, and extra fees may apply. Gemini imposes a fixed 0.5 percent premium above the current trading price for mobile and web app customers and users (which Gemini refers to as their "convenience fee").
Gemini has a variable fee structure based on the dollar volume of trades on its ActiveTrader platform over the last 30 days. Rates are also depending on the asset's liquidity at the moment of purchase; if the asset is instantly accessible, you are charged a "taker" fee; if your order must wait for a buyer, you are charged a "maker" fee. The "auction" option permits the selling of bitcoin blocks at a maximum purchase or minimum sell price.
Offer and markets
Gemini supports over 50 coins. Gemini's Active Trader platform supports 21 crypto-to-crypto trading pairings. Gemini provides customer service via email and lives chat. It allows buyers and purchasers to trade directly through the Gemini Clearing interface; costs are based on the spread, and there is no minimum order size.
Gemini Basic is a clear, easy interface for purchasing cryptocurrencies based on the total quantity of crypto or the total number of U.S. dollars you wish to spend for desktop users. Gemini's ActiveTrader platform has extra features, such as sophisticated charting, monitoring numerous order types, and block trading.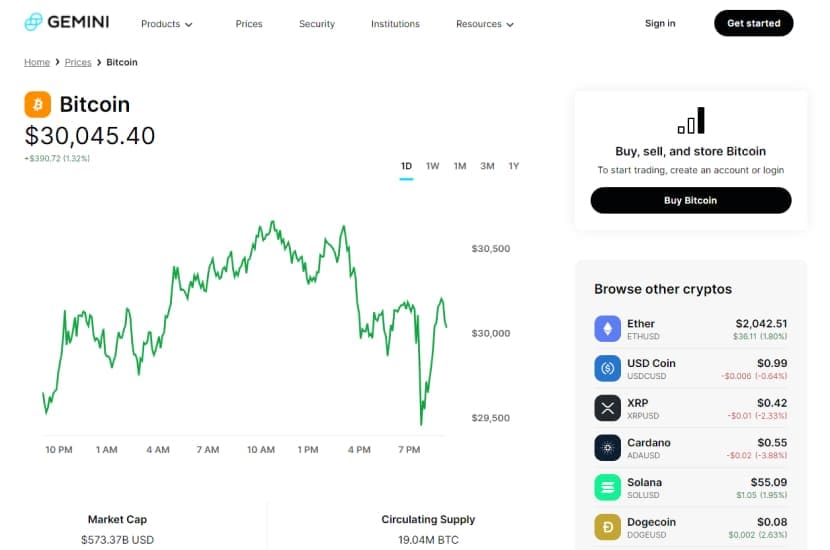 Fees
Depending on the trading platform, up to 1.49 percent; 3.49 percent for debit card purchases. Other charges may apply.
Signals Blue opinion about Gemini
Gemini is overall a good exchange. Apart from its high transaction fee, it offers great security and services to its clients that overshadow its fee or justifies its fee. It permits buyers and sellers to trade directly through the Gemini Clearing interface; costs are based on the spread, and there is no minimum order size.
Signals Blue and Gemini – is the exchange compatible with our signals?
Yes, Gemini is compatible with Signal Blue. If you create an account on this exchange, you can use 50% of the crypto signals from Signal Blue.
Conclusion
Gemini provides a very simple setup and user-friendly interface for beginning cryptocurrency investors and robust capabilities for more professional traders. While its prices on its mobile and web applications may be higher than those of other competitors, Gemini's security features, like an insurance for digital assets, are appealing – especially for individuals new to the crypto world.
Look at this
Recommended knowledge from Signals Blue
Is it worth using Gemini?
Gemini is an easy-to-use cryptocurrency exchange that may be suitable for both novice and expert traders. Gemini is worth exploring if you're serious about crypto investment or trading since it has industry-leading security measures, its own hot wallet, and a thorough help center.
In which countries can Gemini be used?
Gemini is accessible in over 60 countries, including all 50 states in the United States. Please see our Areas of Availability page for further details.
In which countries is Gemini blocked?
A few countries where Gemini is not available contain Pakistan, Bangladesh, Thailand, Saudi Arabia, UAE, etc.