Coinbase Pro is a popular cryptocurrency marketplace that makes acquiring, selling, and exchanging cryptocurrencies simple. Coinbase Pro is a trading platform for market participants and cryptocurrency enthusiasts. Over 130 assets are available for trading on Coinbase Pro, with minimal fees for significant volume transactions, sophisticated order types, and a user-friendly marketplace. Users may also use industry-leading security measures to assist secure their cryptocurrency investments. Coinbase Pro may be a good platform for professionals because of its extensive range of crypto treasures and complex order types.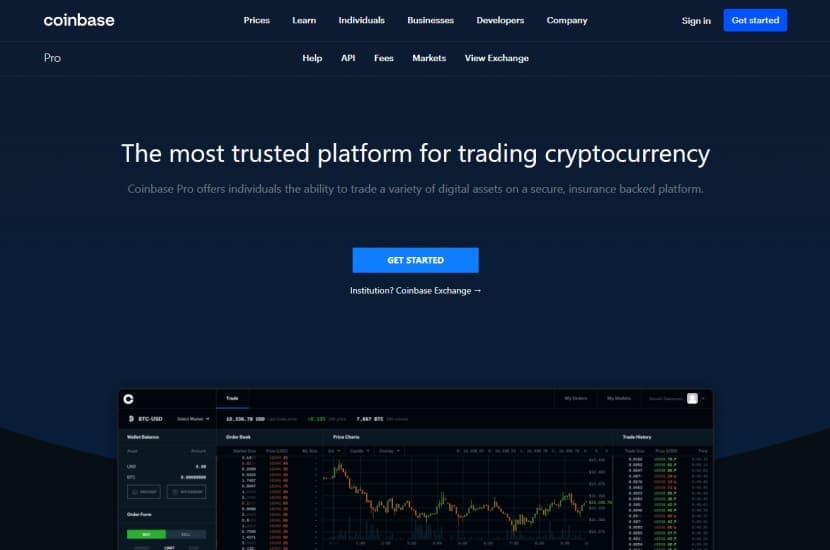 Cryptocurrencies Available on Coinbase Pro
Coinbase Pro members access over 130 cryptocurrencies to purchase, sell, and exchange. Coinbase Pro supports the following assets:
Ethereum (ETH)
Litecoin (LTC)
Stellar Lumens (XLM)
Uniswap (UNI)
Aave (AAVE)
Bitcoin Cash (BCH)
Chainlink (LINK)
Cardano (ADA)
Trading Experience
Users of Coinbase Pro can access their wallets through a desktop browser or an iOS or Android smartphone app. Similar features & settings are available on both the desktop and mobile platforms. Users may promptly view moving averages and exponential moving averages and their transaction history, order book, and market charts. Coinbase Pro also supports order types, including stop, limit, and margin orders. The trading platform and expertise may be excellent for seasoned crypto traders, but it could be not very comforting for novices.
Coinbase Pro Pros
For cryptocurrency novices, it is simple to use
Coinbase's main website and mobile app are simple to use and enable you to purchase, trade and swap cryptocurrencies rapidly.
A significant variety of cryptocurrencies are supported
Coinbase presently supports over 130 currencies for trade, with more being added.
Cryptocurrency earning opportunities
Earn interest on qualified holdings or use Coinbase Earn to receive a tiny amount of a new currency.
You can receive a better deal with Coinbase Pro
Coinbase Pro, an active trading marketplace with greater functionality and lower costs, is available. So, with Coinbase Pro, price reductions are available.
Coinbase Pro Cons
Transaction costs are high
On the primary Coinbase platform, transaction costs are frequently high.
Problems with customer service
Customer care at Coinbase is lacking, especially in the event of significant account security problems.
Many altcoins are unavailable for trading
Many currencies are missing from Coinbase's excellent list of supported currencies.
Offer and markets
Coinbase Pro has a broader range of transaction types and cheaper costs, perfect for active traders. Clients use the Coinbase Pro and Coinbase Exchange trading interfaces to access Coinbase Markets, a series of limit order books.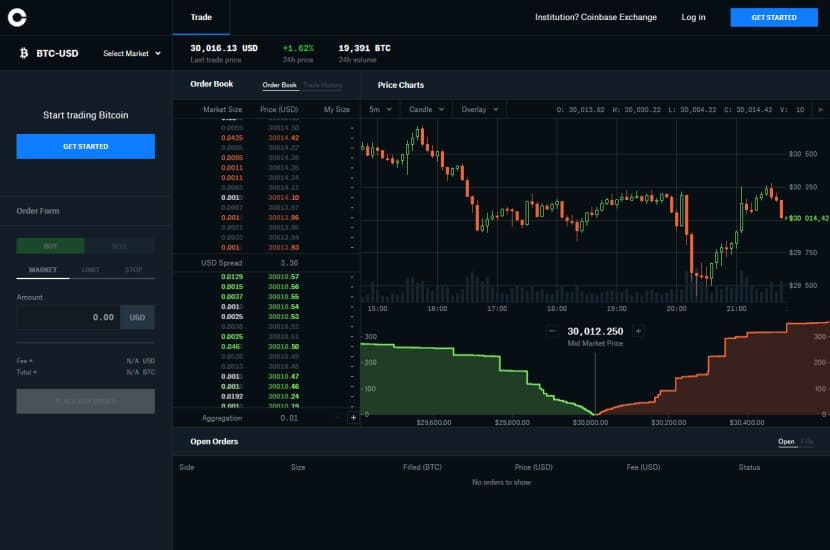 Fees
Coinbase Pro, like many other cryptocurrency tradings, levies charges on specific payment methods and transaction charges. Coinbase Pro has a maker/taker fee system, varying costs depending on trade volume and BNB balance.
Trading Fees
Fees are computed depending on the latest price tier you are in when you submit the order, not the tier you will be in once the trade is finalized. Depending on your overall transaction volume, your charge tier is updated hourly. You are a taker if you place an order at the market price that is instantly fulfilled and pay a charge of between 0.05 % and 0.60 %. When you place an order not now matched by another order, it goes into the order book. If another client places an order almost identical to yours, you will be charged a fee ranging from 0.00 % to 0.40 %.
You pay a taker charge for the piece of your order that is substantially matched right away. The remainder of the order is entered in the order book and is deemed a maker order when fulfilled. You pay a maker charge for the leftover percentage of the entire order.
Miner Fees
To deliver a pleasant experience for our customers and quick payment services, Coinbase Pro will charge a fee depending on our forecasted network transaction cost for each transaction. The charge that Coinbase Pro pays may deviate from the estimate in some cases. Before you finish your order, all prices will be disclosed.
Account Fees
There are no costs associated with creating or maintaining a Coinbase Pro account. Furthermore, there are no charges for keeping payments in your Coinbase Pro account, and you may keep assets for as long as you choose.
Bank Account: $0
USD Wallet: $0
Credit card: $0
ACH Transfer: free
Wire Transfer: $10 transfer, $25 withdrawal
Converting Crypto: 0.50% to 2%
Signals Blue opinion about Coinbase Pro
Coinbase Pro is a fantastic user experience that might be suitable for active traders. Over 130 cryptocurrencies are available for users to purchase, sell, and exchange and the site offers fee savings for high-volume transactions. Coinbase Pro also has a high security and compliance record, so it is worth considering if account security is a priority for you. Coinbase's main website and mobile app are simple and enable you to purchase trade and swap cryptocurrencies rapidly.
Signals Blue and Coinbase Pro
Coinbase Pro is compatible with all signals blue, and it is a prominent cryptocurrency exchange that simplifies the process of buying, trading, and exchanging cryptocurrencies. Because of its vast range of crypto assets and complex order kinds, Coinbase Pro may be a valuable platform for experts.
Conclusion
Finally, we can say that Coinbase Pro is a well-known cryptocurrency exchange that makes purchasing, trading, and exchanging cryptocurrencies simple. Coinbase Pro, an active trading marketplace with greater functionality and lower costs, is available. It simplifies your options by limiting the kind of transactions you can make, and it is worth considering because Coinbase Pro supports a wide range of cryptocurrencies.
Look at this
Recommended knowledge from Signals Blue
Is it worth using Coinbase Pro?
It keeps your options simple by restricting the sorts of transactions you may do. Because Coinbase Pro supports a significant variety of cryptocurrencies, it is worth using it.
In which countries can Coinbase Pro be used?
Clients in the following countries can use Coinbase.
The United States
Canada
The United Kingdom
Europe
In which countries is Coinbase Pro blocked?
Coinbase Pro is available in almost 100-plus countries, but it is not available in some countries like Nigeria.